MAC OS X WIDGET
Widget MacOS X
This Widget for MacOS X 10.4 shows you the amount of spam in the internet.
more...
-10.4 or more
-Freeware
-size: 169k
HTML-CODE
Flash your site
You can place the Spam-O-Meter on your website.
Click on the Spam-O-Meter to enlarge it.
more...
-Flash-Player5
-Freeware
-size: 200k
SCREENSAVER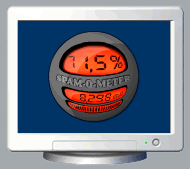 Screensaver for Windows
This screensaver for Windows systems gives you all the pleasures of Spam-O-Meter in fullscreen.
more...
-WindowsXP/2000
-Freeware
-size: 968k